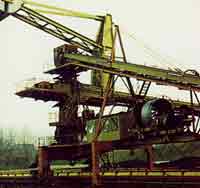 Cylindrical Cable Reeling Drum
Drive Units for Cable reeling Drums
Torque Motorised Cable Reeling Drum
This type cable reeling drum can handle long lengths of cable, the torque motor can operate continuously in the stalled position and can be rotated in the opposite direction and still maintain a constant tension on the cable.
Frequency Converter Controlled Reeling Drum
The drive is is unit is by a squirrel cage motor, the torque is adjusted based on the crane speed, this is controlled by the PLC in the drive system which keeps the constant tension on the cable.
Magnetic Coupler Motor Driven Cable Reeling Drum
This drive system is normally a standard squirrel cage motor, the magnetic coupler has a air gap between the driven magnet and the output magnet, the output torque can be altered by adjustment of the air gap, these magnets are permanent magnets and do not require external power.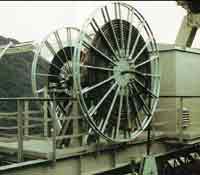 Two Monospiral Cable Reels